In the space of a day, things in Canucksland have gone from looking a little bit iffy to looking a lot rosier. If the rumours are true, that is.
And you know how rumours are. I'll believe them when I see them. But for now, I'm quite heartened. A summer of Mike Gillis not seeming to do anything to shore up a defense without Matthias Ohlund (who left for sunny Tampa Bay and a huge contract) and seeming to leave extending the best goaltender the Canucks have ever had now seems to be brightening.
Optimism may be on the rise in Vancouver again.


The first rumour is that the Canucks are very close to signing 40-year-old defenseman Mathieu Schneider to a 1-year deal worth $1.5 Million. This would be very good for the Canucks for a couple of reasons.

First, it will greatly help the largely anemic power play the team has sported for the last 6 seasons, where it's never finished higher than 15th. Schneider is a proven power play quarterback, helping the Montreal Canadiens last year by scoring 17 points in 23 games after the trade deadline, mostly on the power play. He instantly becomes the best quarterback on the team besides the oft-injured Sami Salo, who is wonderful in the role...when he's playing.

Secondly, he is a puck-moving defenseman, something the Canucks desperately need. Getting the puck out of their own zone on the breakout has been another problem for the Canucks, and he should help with that.

There are a couple of potential problems with this scenario, however. First, he's old. I say this in the relative sense, not in the "great game of life" sense. For an athlete in a professional sports league, 40 years old is old. There's no getting around that.

Secondly, he has had injury problems. He only played in two playoff games for the Canadiens last year, and he probably shouldn't have played in those. He's just coming off arthroscopic surgery in his shoulder from that injury. Hopefully, that won't continue, but it may if the Canucks rely on him for a ton of minutes (if that doesn't get him injured, it may fatigue him enough that he becomes ineffective).

Signing him to a one-year contract means the Canucks can let him go next year with no problems. This gives the team a year to see whether any of their defensive prospects will show signs of hitting the next level or it will give them a chance to reload for next year's free agency period. Either way, it's a very positive move. And you can't beat that cap hit, either.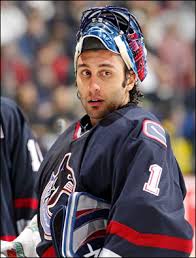 The second rumour that is brightening Canuckland is the potentially imminent signing of Robert Luongo's extension. Yes, it is a Twitter post, so I'm mainly hoping this is true. Five years at $6.75 Million per year is a bit high, but manageable within the cap, and at 5 years, it will take him until he's 36 (or close to that, anyway). If this happens, it will take a great load off of the team and make it so there are no distractions this coming year. Let's hope that Luongo takes what has happened the past three years to heart.

Three years ago, he dominated the series against Dallas and it's only because of him that they won, getting shutout three games in a row. Then he was playing another lights out game in Game 5 of the Anaheim series before getting distracted by what should have been a penalty and letting a softy go in in overtime. There was no way they were going to win that series anyway, but it still was a bad way to go out.

Two years ago, Luongo seemed really distracted by the impending birth of his first child, and there were a lot of rumours going around town about his wife not being happy in Vancouver (fed by the fact that she retreated to Florida to be with family and the doctor she knew well since Roberto would be out of town a lot). The Canucks missed the playoffs, playing horribly down the stretch after being in a good playoff position before that.

Then, last year. The Chicago series, Luongo did not look like his normal self, but the team was still doing pretty well. In Game 6, the Canucks were actually getting some offense, but the defense, along with really shitty Luongo goaltending, cost them that game, and the series.

So this year, let's hope that Luongo has learned from all that, and will be back to his normal self. Getting this extension out of the way, knowing that he will be our goaltender for years to come, can only help with that. This also frees up Gillis to make some decisions about up and coming goaltender Corey Schneider, who would make a nice bargaining chip if Luongo's going to be here long-term.

Both of these are still rumours at this point, though the Schneider one seems more imminent than the Luongo signing (or at least a bit more solid of a rumour). But both of them can add some optimism to a Canuck fan base that has been starting to get a little worried.

And cranky.